December is upon us and the Christmas Holiday is right around the corner. And yes this year flew by with many ups and downs, hurdles and challenges that we all took head on and got through with flying colors as a team. This year we will be foregoing any Holiday gathering as to not create an uncomfortable situation and to help prevent any one team member from getting sick—Covid or otherwise.
Instead Lauritano Appraisal Services will make a donation to three charities so that other families can enjoy their holiday without the worry of where their next meal will be coming or how to take care of those loved ones who may need special care. The following charities were supported by the entire team at Lauritano Appraisal Services:
Island Harvest
Long Island Cares
East End Hospice
All recipients are very much appreciative of our entire team and efforts to make those less fortunate a little bit more comfortable This Holiday Season.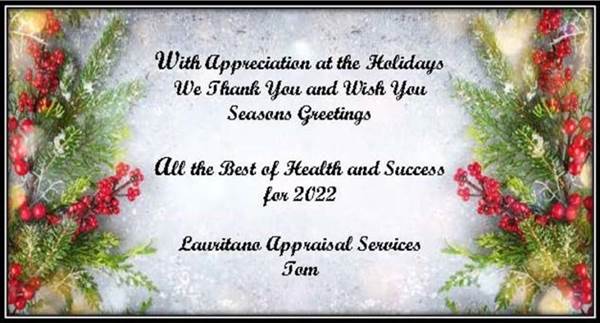 With 2021 winding down as we head with anticipation towards the holiday season, I would like to thank all of our valuation partners for their continued and long standing support. So on behalf of the entire team here at Lauritano Appraisal Services here in New York please enjoy your families and be safe.